Juvederm are dermal filler with thick consistencies, making them great for adding volume to areas that appear hollow, sunken, or that require more roundness and definition. Filler treatment for cheeks is a great option for patients who have lost volume in the mid-face due to age, as the fat beds beneath the skin shift and redistribute over time, changing the appearance of the face. Both are equally good options for facial rejuvenation and removing years of aging form your appearance .
Juvéderm® is an injectable hyaluronic volumiser that provides long-lasting restoration for facial volumes through injection. The results are immediate, even, and produces a very natural outcome.It is extremely popular right now because of the way that it offers significant anti-aging results for a wide range of facial areas.
Juvéderm® is available in various formats to be used in different parts of the face. These variations alter the depth of injection, the consistency and the duration of the product along with the suitable target areas. Those formats are:
Volux (Beat for sculpting)

Voluma (Best for facial re-volumization)

Vobella (Best for fine lines reduction)

Volite (Best elasticity, for high movement area, e.g smile lines)
Juvederm® works by increasing facial volume through an injection of something called hyaluronic acid. This special substance has the unique ability to attract and bind many times its own weight in water. Think of Juvederm® as an internal moisturizer that goes to work to immediately plump and hydrate your skin.
Juvéderm® restores youthful volume to cheeks, cheekbones, and chin that have become hollow or thin due to weight loss or age-related facial fat loss..
At what age should I start treatment with Juvéderm®?
Juvéderm® is intended for use by adults. As we start to lose more collagen from our mid-20s, patient have opt for it as young as 18 years old.
How long will the effects of treatment with Juvéderm® last?
The average effect of treatment with Juvéderm® lasts about 18 months and up to 2 years. It may sometimes be shorter or longer depending on:
Patient's age

Patient's physiology

Patient's lifestyle (smoking and exposure to sun or UV rays may shorten the effect)

the amount injected and the practitioner's technique.
One important point to remember is that fillers will eventually be absorbed by your body, and you will need follow-up treatments at that point to maintain the results.
Will the treatment hurt?
Most Aesthetic doctor use the latest techniques to minimise any discomfort. These can include ice packs and skin vibration. Patients do not need local anaesthetics and after the treatment any discomfort usually settles very quickly.
What can I expect to happen at a treatment session?
Your Aesthetic doctor will answer all of your questions and prepare you for the treatment.

Anaesthesia for the treatment area will be provided.

The area where the injections will be given will be cleaned with an antiseptic.

Juvéderm®

will be injected in small amounts into the skin using a very fine needle.

Multiple injections will be needed.

An ice pack should be applied to the treatment area to help reduce swelling.

After the treatment session, the area should be thoroughly massaged to distribute the product evenly.
What can I expect after treatment?
Immediately following a treatment session with Juvéderm®, redness, swelling, tenderness, bruising or all of these signs can happen in the treatment area. These signs usually go away in a few hours to a few days. You should massage the treated area (a few times each day) for several days after the treatment session and an ice pack may be applied for a few minutes at a time to the treatment area to help reduce swelling. Avoid excessive sun and UV lamp exposure until any initial swelling and redness has resolved.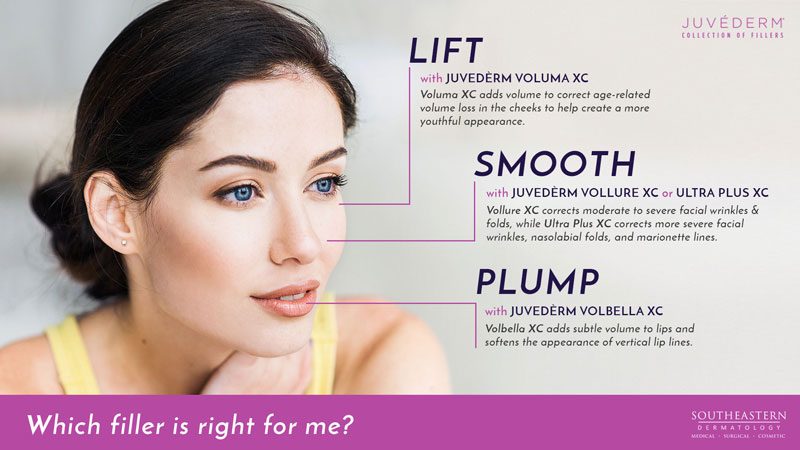 When can I return to work and resume my social life?
The aesthetic results are immediate and very natural looking. You can return to work and resume your social life immediately. Make-up may be applied a few hours after treatment if no complications are present (for example, open wounds or bleeding).
Are there any side effects?
Following injection, you may experience redness, slight swelling, or bruising at the injected area. Your doctor will inform you about this. These side effects will not last and can easily be covered up with your usual makeup.
What about contraindications
These do exist. They are not specifically related to Juvéderm®, but to this type of treatment. This is why it is important to tell your doctor about any previous history of pathologies such as auto-immune diseases, allergies, known hypersensitivity to hyaluronic acid, any tendency to develop hypertrophic scars, immunotherapeutic treatment, inflammatory or infectious complaints (acne or cold sores) at injection sites, if you are pregnant or breast-feeding, any previous aesthetic treatment, particularly the use of permanent products.
Are there any recommendations I should follow after treatment?
You are advised not to apply pressure to or massage the injection site during the first days following injection session. In the first week following treatment, the injected product may feel unduly firm as it settles into the surrounding tissue. This is normal and your Juvéderm® will feel soft and natural just like your own fatty pads.
Is there anything I should know before I have the treatment?
Do not take aspirin for at least three days before the injection session. During the injection, risk of bruising (haematoma) and swelling will be higher for patients under anti-coagulant treatment or taking aspirin.

Contact Us
If you feel that you would benefit from facial sculpting with Juvéderm®, we encourage you to schedule an initial consultation with our doctors at Cleo Clinic. Contact us today to book an appointment at our clinic in Hartamas, KL.
For more information please contact us at 010-2521883 or schedule a free consultation by clicking on the button below .