Microdermabrasion Medifacial
Microdermabrasion is a safe and controlled skin exfoliating treatment. Micro crystals work on the skin using a hand held device, which gently exfoliates away the very top layer of the skin, reducing and removing dead skin cells and skin debris. The treatment is safe, painless with little or no downtime, as only the very top layer of the skin is removed so there isn't any visible peeling or damage to the skin, this leaves the skin feeling smooth, looking brighter and appearing polished.
It is a patented, fully-customisable, non-invasive, 3-in1 skin-resurfacing treatment that simultaneously exfoliates, extracts and infuses skin with condition-specific serums for an all inclusive treatment in one step. The result is skin that shows immediate and noticeable improvement in volume, hydration, tone and texture.
This new dermabrasion facial device uses a suction extraction as well as diamond tipped abrasive head to take off all surface debris from your skin and at the same time replenish it with nourishing serums to reveal healthy glowing skin.
Volumises skin by 70% for up to 72 hours post treatment
Helps stimulate natural collagen synthesis
Treatment for all skin types
Non invasive with no downtime
Improves a variety of skin concerns including: hyperpigmentation, fine lines and wrinkles, skin laxity, enlarged pores, dehydrated and dull skin, acne and rosacea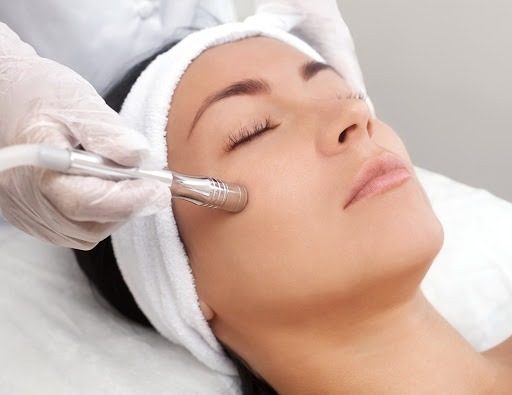 Is microdermabrasion / Dermalinfusion facial suitable for me ?
Chemical peels address different skin conditions by removing the outer layer of damaged skin and revealing a
younger-looking skin below. Chemical peels vary in their effectiveness depending on the depth of the peel.
Microdermabrasion helps remove dead skin cells and accelerates the rate of skin rejuvenation and stimulates the production of collagen. This makes it a great treatment for fine lines and mild scarring, such as acne scarring. It's also a great way to unclog pores and clear congestion, leading to clearer skin. Microdermabrasion can also be used in conjunction with superficial skin peels to help with more severe cases of acne.
Microdermabrasion increases the effectiveness of skin care products as they are absorbed, and allows them to penetrate deeper into the skin, where they are needed. Microdermabrasion gives quick visible results and can be used to treat a wide range of skin problems on the face, including congestion, pigmentation, mild scarring, dull skin, fine lines, as well as improving the overall skin health.
To get the best results a course of six treatments is recommended, for concerns such as lines, wrinkles, acne scarring, blemished skin and pigmentation. Treatments are performed one to two weeks apart. As the skin regenerates every 30 days or so, a maintenance microdermabrasion treatment is recommended every month following a course of treatments.
Doctor of Medicine (M.D.) – MMA
Professional Diploma in Aesthetic Medicine

Specializes in non invasive aesthetic treatments including dermal fillers , thread lifting and anti wrinkles treatments.
Doctor of Medicine (M.D.) – MMA
Postgraduate Diploma in Dermatology in Clinical Practice – University of South Wales, UK
Professional Diploma in Aesthetic Medicine – AAA

Specializes in non invasive aesthetic treatments with an interest in skin diseases and acne treatments.
Certified Doctors

Safe and Proven Methods
Minimal downtime
FDA Approved
For more infomation please contact us at 010-2521883 or schedule
a free consultation by clicking on the button below.
satisfied clients 5⭐️ reviews on google